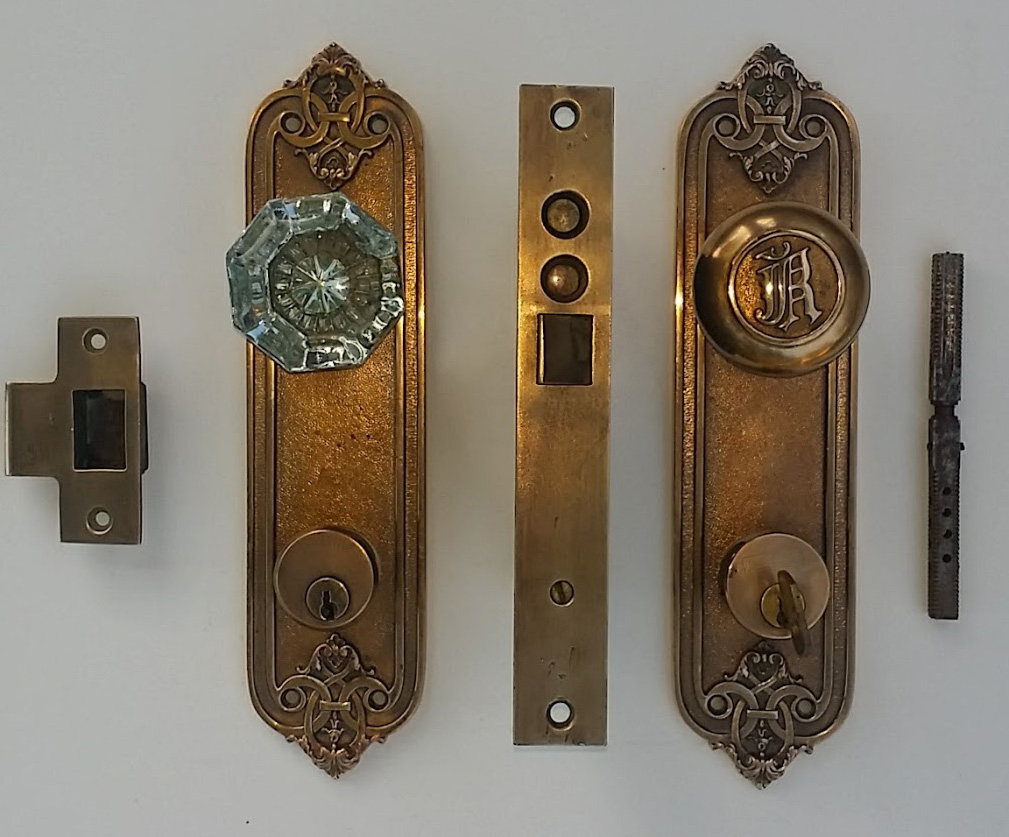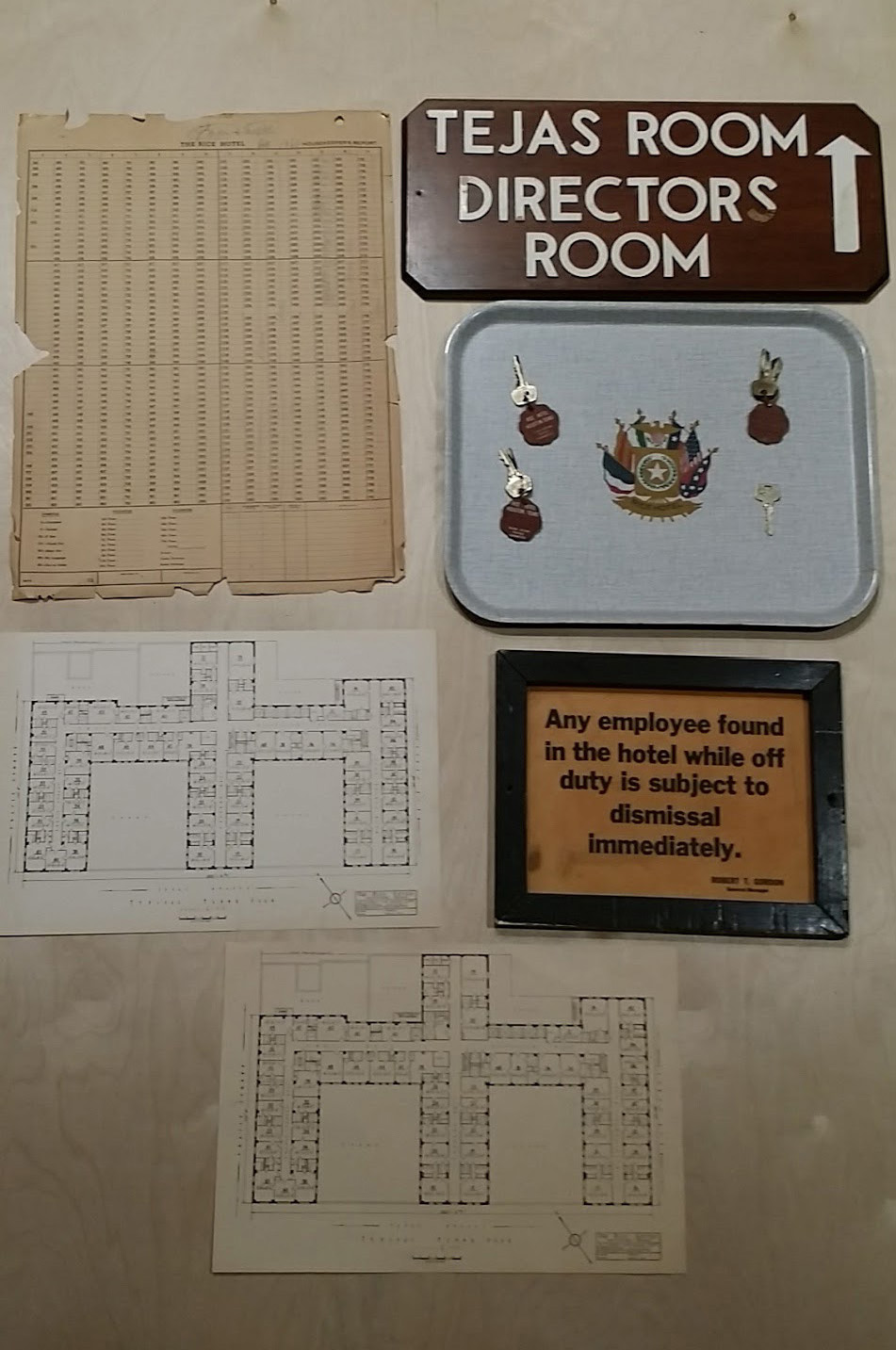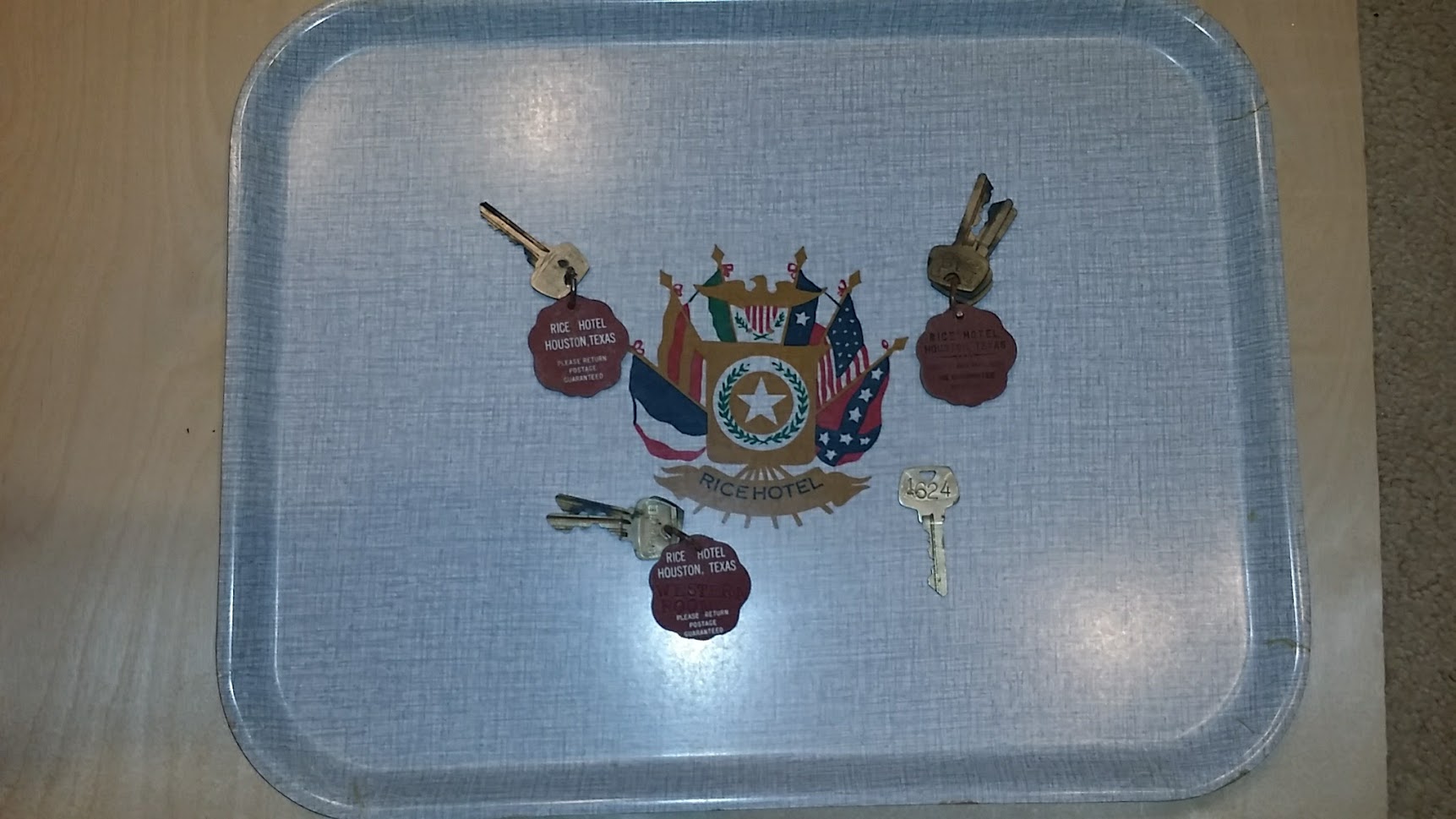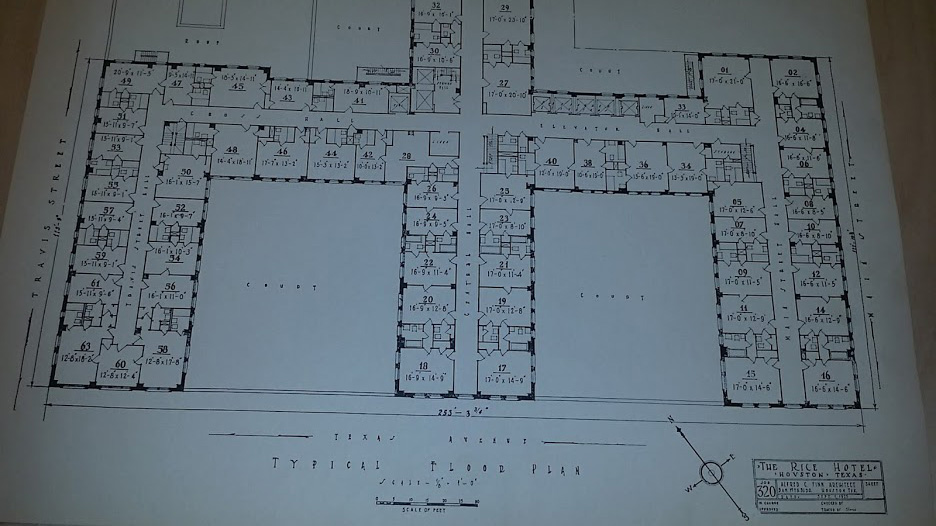 The Texas Story
A number of years ago a friend of mine Wayne Hancock was president of Rovi Texas, a company that owned the Rice Hotel in Houston on the site of what was the first government of the Republic of Texas.  The building was scheduled for demolition so the company had held an auction of all the materials inside.  Wayne himself purchased some materials including elevator granite, etc for his home to be built on Houston's Southwest Freeway. The home was later purchased by Warren Moon, quarterback of the Houston Oilers.  After the mentioned auction Wayne offered me and my brother—both in the construction business—the opportunity to go through the building and take whatever was left as it was scheduled for demolition anyway.  We went through it and recovered mainly some doors and some solid brass Sargent doorknobs and doorplates which being attached had remained.
I have a supply of twenty or so doors and an even larger number of doorknobs and doorplates.  The doors have been painted but underneath are beautiful I believe mahogany.
I have included photos of a few other artifacts to lend to the authenticity of the doors and door hardware.
Contact us at vern@voteforvern.com for pricing.
For Sale a Very Private Three Acres Perfect for Home Compound 
Scarce three acres near Spring.  Densely wooded, pristine and untouched since Sam Houston deeded the property to Wuensche ancestors in 1845.  One minute from I45, eight from new Exxon campus and two hundred yards from Lemn Elementary–Texas exemplary Klein ISD school.  Unrestricted.  Perfect for a very private estate home or business.  $299,000.
Vern Wuensche
vern@voteforvern.com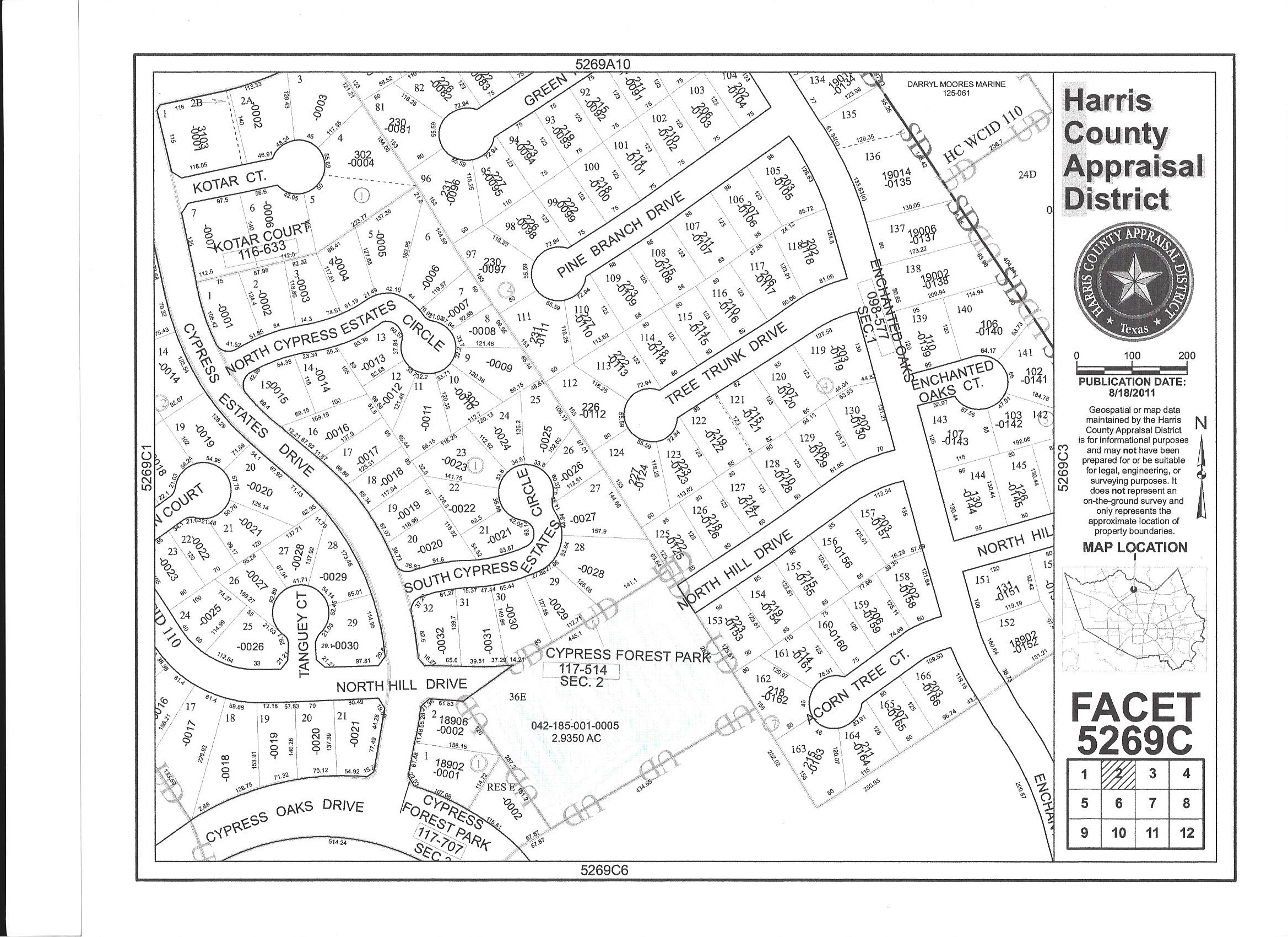 If you are starting a business you could avoid some legal pitfalls with this . . .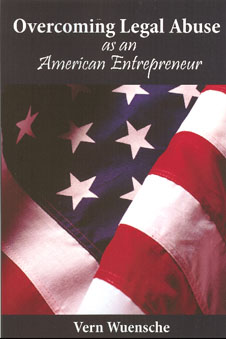 Available on amazon.com
In Praise of Packrats
In danger of seeming self-serving and creating conflict in America's marriages, I believe we should praise packrats rather than diminish them.  So here goes . . .
Without packrats, there would be few museums. For something to be displayed in a museum it must either be valued continuously for several generations or be held by a packrat who simply stores and ignores it till it becomes an antique.  After that with enough time passing it can be displayed in a museum.
A case in point is the Texas Wendish Heritage Society and Museum founded by my mother and four other women in 1971. Being blessed with a continuously dedicated staff over the years it now has an impressive museum, over one thousand members all over the world, and a substantial endowment for annual student scholarships.  This smallest of ethnic groups in Texas begin in a perfect place: Serbin, Texas.  Serbin is a small farming community where Wendish residents who valued their heritage never moved, threw nothing away and had the space to keep things.  A great start for any museum.
Packrats in managing their stuff ask one question: does the item have sentimental or economic value.  If it has a sentimental value it is always kept. If it has economic value its value must be greater than the cost of keeping it over time. That value, in turn, is based on that person's situation and personal creativity.  Which is why farmers are the best packrats.  They are tied to the land, rarely moving, with lots of available space in land and buildings to keep things which will be useful at some point. And magazines consequently are always saved on a farm.  They take up little space, were produced under heat, so stacked in a dark barn they have little danger of ultraviolet rays of the sun damaging their spine.
Which brings me to why I am so fond of magazines . . .
I grew up on a farm in McDade, Texas (pop. 250) where with a minimum wage father we had fresh air and ate very well but had no money to buy a newspaper let alone a magazine.  But a kind-hearted neighbor being one of the few educated persons in the town gave us some old issues of Life magazine and the New York Times while it was still a good newspaper. As our school had three grades in one room, five students in my 8th grade graduating class and a principal who had received his teaching certificate in the Army, these magazines were an assist to my rather poor educational environment.  And later, having had this early impetus, when I graduated from college I saw subscribing to a wide variety of magazines to be a way to continue my education.
My father and his father before him both saved all the annual issues of the Farmer's Almanac for a century.  Each issue gave the phase of the moon the weather and of course advertised a number of products.  Little else.  But in perusing a large number of them one day I found a solitary issue saved by my grandfather in 1902 that allowed for a daily one-line diary entry for the day.  I had never met my grandfather but his life came alive through his daily disciplined entries.  He methodically recorded "66 days in cotton"  "worked in corn 46 days" which explained the genetics of one brother and me being accountants with another being a chemist. Another entry answered a question about an often told family story of my grandfather meeting Governor Pa Ferguson   I could never figure out how my dirt poor, honest and hardworking grandfather in the small town of Spring, Texas had ever met him.  Yet there it was in a one-line entry on November 4, 1902: "served on election" which gave him access to politicians. Which I never knew.
So in true family fashion, I have kept all of the many magazines I have subscribed to for fifty years.  I have had a simple process, read them, place them in a dark closet and once a year transfer this three-foot stack to a dark attic in the home where I have lived for 39 years.
Today having only economic value to me, I am clearing them out.  Newsweek, Texas Monthly and Forbes are for sale on my Woodmark Magazines storefront on Amazon.com. https://www.amazon.com/s?me=A1XD9JTEPGVVGQ&marketplaceID=ATVPDKIKX0DER  The remainder in most cases are for sale as listed below for $30.00 each upon request for a specific issue to vern@voteforvern.com
Today it is difficult to be a packrat.  People move too much.  And there are fewer people on farms.  Which is why packrats today generally marry non-packrats.  Otherwise where on earth would they have the room to put all their stuff.
National 
| | | |
| --- | --- | --- |
| Newsweek | 2600 | 1968 to 2013 |
| The Week | 48 | April 2008 to April 2009 |
| Smithsonian | 76 | April 1974 to June 1982 |
| Psychology Today | 25 | May 1974 to May 1980 |
| Grit | 12 | |
| Success | 30 | June 1989 to June 1972 |
| Quest | 36 | March 1977 to June 1981 |
| Signature | 8 | November 1986 to August 1987 |
| | | |
National Business
| | | |
| --- | --- | --- |
| Forbes | 1300 | 1968 to 2019 |
| Inc | 339 | August 1985 to Sept 2011 |
| WSJ | 67 | |
| WSJ Metropolis | 3 | |
| WSJ Future of Everything | 4 | |
| Forbes ASAP | 41 | |
| Forbes FYI | 25 | October 1, 1990 to Winter 1997 |
| Forbes Life | 30 | |
| The Economist | 6 | |
| Venture | 8 | |
| Management Focus | 13 | |
| Fast Company | 12 | |
| Executive Edge | 5 | |
| Your Company | 5 | |
| Financial World | 4 | |
| Smart Business | | |
| Wall Street Journal | 72 | |
Texas 
| | | |
| --- | --- | --- |
| Texas Monthly | 374 | |
| Alcalde | 299 | |
| Texas Highways | 40 | |
| Texas Homes | 7 | |
| Texas Builder | 22 | |
| Texas Republic | 11 | |
| Texas Traveler | 2 | |
| Texas Business | 24 | |
| Texas Business Review | 4 | |
| Texas Building & Remodeling | 3 | |
| Austin Homes and Gardens | 9 | |
| Dallas Business Journal | 57 | |
| Texas Building Trends | 27 | |
| Texas Coop Power | 114 | |
Houston 
| | | |
| --- | --- | --- |
| Absolutely Memorial | 30 | |
| Cite | 60 | |
| DBA | 46 | |
| District | 3 | |
| Energy Corridor Living | 31 | |
| Houston | 4 | |
| Houston Arts | 1 | |
| Houston Business Journal | 2600 | |
| Houston Business Journal Book of lists | 21 | |
| Houston City | 4 | |
| Houston Design Resources | 1 | |
| Houston Home | 3 | |
| Houston Home & Garden | 13 | |
| Houston House & Home | 48 | |
| Houston Lifestyle | 3 | |
| Houston Lifestyle & Homes | 37 | May 1989 thru Feb 2017 |
| Houston Living | 31 | |
| Houston Lutheran | 12 | |
| Houston Metropolitan | 45 | |
| Houston Style | 5 | |
| Houstonian | 2 | |
| Inside Houston | 2 | |
| Island Living | 1 | |
| MFA Today | 4 | |
| Ultra | 5 | |
Conservative 
| | | |
| --- | --- | --- |
| Conservative Chronicle | est  530 | |
| First Monday | 79 | |
| Insight | 46 | |
| National Review | 651 | March 10, 1989 to present |
| New America | 19 | |
| Politics Today | 8 | |
| Rising Tide | 14 | |
| The American Spectator | 12 | |
| Weekly Standard | 534 | April 6, 1996 to June 4, 1918 |
| Campaigns & Elections | 2 | |
Membership Groups 
| | | |
| --- | --- | --- |
| AA Chronicles | 5 | |
| Army Reserve | 2 | |
| Beta Gamma Sigma | 10 | |
| Freedom | 19 | |
| Houston Lutheran | 12 | |
| KPMG | 15 | |
| Life of the World | 14 | |
| MBA | 8 | |
| McCombs | 39 | |
| NKBA | 12 | |
| NKBA Profiles | 13 | |
| Phi Kappa Phi Journal | 60 | Spring 1974 through Winter 1991 |
| Texas CPA | 111 | May 1977 thru October 1992 |
| The Lutheran Witness | 112 | |
 Builder 
| | | |
| --- | --- | --- |
| Architect AIA | 1 | |
| Architectural Digest | 12 | September 1986 thru September 1988 |
| Better Homes & Gardens | 10 | |
| Builder | 86 | |
| Builder and Architect | 40 | February 1996 thru October 2001 |
| Builder and Contractor | 8 | |
| Builder News | 3 | |
| Building Design & Construction | 10 | |
| Cabinetmaker | 129 | |
| Custom Builder | 24 | |
| Custom Woodworking Business | 180 | |
| Custom Woodworking Business | 2 | |
| Fine Homebuilding | 22 | |
| Home Plans | 8 | |
| Home Plans | 29 | |
| House Beautiful Kitchen & Bath | 1 | |
| KBB | 86 | |
| Kitchen & Bath Business | 6 | |
| Kitchen & Bath Design News | 58 | |
| Luxury Builder | 13 | |
| Pro Remodeler | 22 | |
| Professional Builder | 382 | |
| Professional Builder & Remodeler | 22 | |
| Professional Remodeler | 71 | |
| Qualified Remodeler | 25 | |
| Remodeling | 394 | |
| Remodeling World | 2 | |
| The Healthy Home | 1 | |
| This Old House | 13 | |
| Woman's Day Kitchen & Bath | 9 | |
| Wood & Wood Products | 291 | |
 Various 
| | | |
| --- | --- | --- |
| American Bible Society | 2 | |
| American Enterprise | 4 | |
| Architect | 1 | |
| Biblical Archeology Review | 5 | |
| California | 1 | |
| Canvas | 1 | |
| Careers Today | 1 | |
| Conde Nast's Traveler | 4 | |
| Constructor | 1 | |
| Corporate Finance | 1 | |
| Deck Builder | 2 | |
| Details | 1 | |
| Food and Wine | 4 | |
| Foreign Affairs | 1 | |
| Fortune | 1 | |
| Good Old Days | 1 | |
| Harpers | 7 | |
| Harvard Journal | 3 | |
| Healthy Home | 1 | |
| Historic Preservation | 1 | |
| Home PC | 1 | |
| Home PC | 1 | |
| Intellectual Digest | 7 | |
| Intrapreneur | 1 | |
| Journal of Real Estate Taxation | 4 | |
| Manhatten | 2 | |
| National Journal | 1 | |
| New Times | 3 | |
| Newsmax | 3 | |
| People | 1 | |
| Pinnacle | 2 | |
| Polo | 2 | |
| Reader's Digest | 1 | |
| Runners World | 1 | |
| Selling Power | 2 | |
| Small Business Computing | 1 | |
| Small Business Report | 1 | |
| Smart Money | 1 | |
| Solar Engineering Magazine | 1 | |
| Time | 7 | |
| Trend | 1 | |
| Virtuoso Traveler | 3 | |
| Wilson Quarterly | 4 | |
| Wired | 1 | |